We understand that some people are nervous spending money on the internet for a product they have never seen in person.  We wish to assure you that our products are high quality, acid-free, photo safe, and archival materials.  We have been building custom albums for many years and keep striving to find new products to add to our offerings.  Please allow us share with you some of the personal comments of our past customers to reassure you.
Previous Customized Albums – customer comments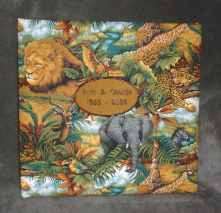 Hi Cindy Just got in & received the photo album – it's absolutely PERFECT – THANK YOU SO MUCH – I LOVE IT!!! You did a terrific job – I appreciate all the extra effort & hope I can give you more business in the future as well as sharing your company with others. Thanks again – I know it will be a real "HIT"!  ~  D.R.   (5-12-2005)
---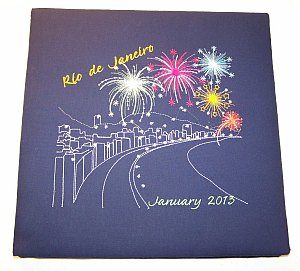 Hello from Nebraska, Just got the album and I LOVE it!!!!! Absolutely perfect!!  I will post later when I have a few minutes. Thanks so much,   ~ Brenda – Feb 18, 2013,
---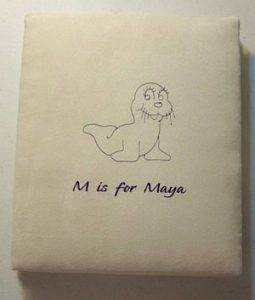 Yes, Cindy, I did receive it and it is awesome. Thank you so much. I think she will love it!  ~  C.A 2-18-13
---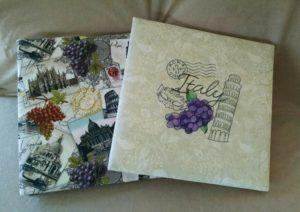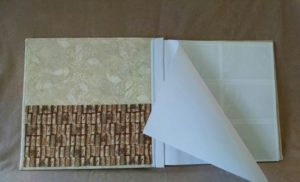 LOVE THEM!!!!
D.P.  2-24-16    (Facebook Comment-   https://www.facebook.com/PhotoAlbumArt/  )
---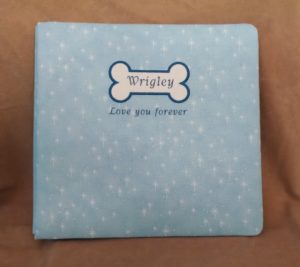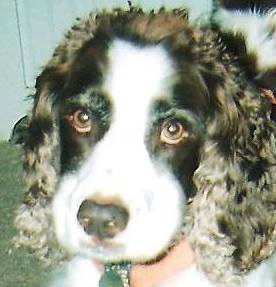 Cindy, our beloved baby boy, Wrigley. Thank you for helping us w/this precious album.  S.C.    7-23-15
(Copied from Facebook Comment)
---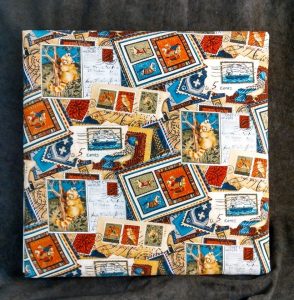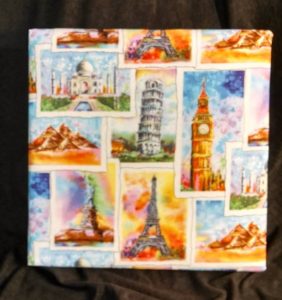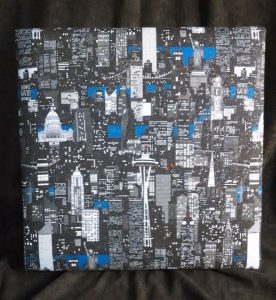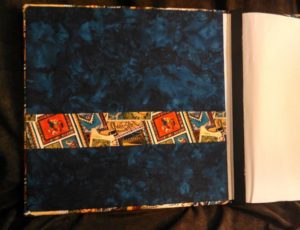 D.P.   4-8-15 "
I purchased three albums (this is one of them) and I love it!!!! The three are to put my pictures of Isreal and Jordon. (all 880 of them) I had ordered 3 albums in the past for all my pictures of Kenya and Tanzania and they had different covers in the wild animal prints….so beautiful!!! The albums are very sturdy."
"
This is the other beautiful album……
" (Copied from Facebook Comments)
---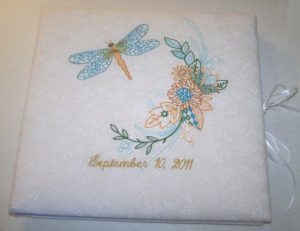 Cindy – It's here and it's even prettier than the picture. And, Charlie agrees!  Thank you for all your hard work.  Thank Susan, too.  You gals are GOLDEN!  Hugs,   ~  Jane   1-23-12
---
Below are some albums purchased over the last several years by a favorite customer of ours
who always has very fun and exciting projects. These are some of her projects and comments: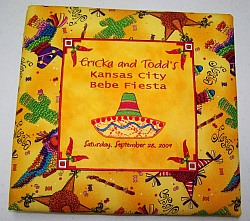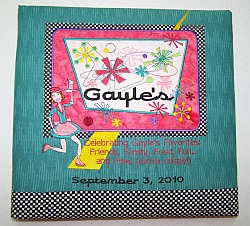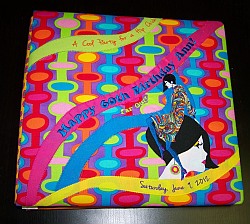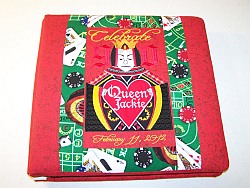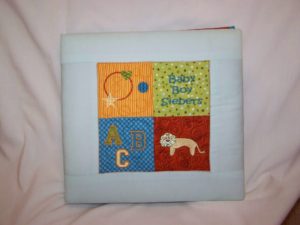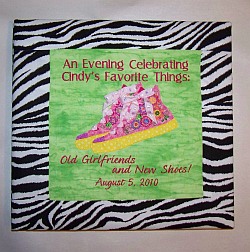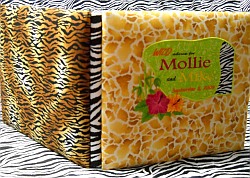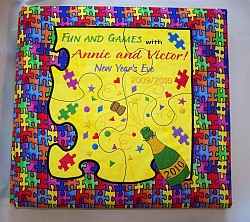 Cindy, It's Gayle, I just wanted to let you know I DID get the album. I absolutely adore it.  It looks terrific.  Thank you so much and I'll talk to you soon. Bye    (phone message) I love working with you because you're soooo creative and take such a special interest in every project we do!:) (email)   G.K. – 2-11-12
---
Hi Cindy, Thank you for all the information. If you have a mailing list please add me to it. I will recommend your site and product to all my friends who are looking for what I ordered. You were extremely helpful and I love the products you have.   ~  S.M.    7-18-12
---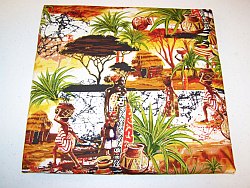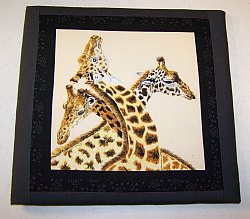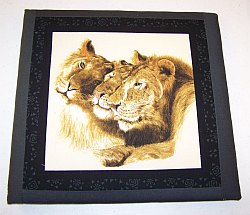 Cindy,  My albums just arrived yesterday. They were just extraordinary. Very high quality. I was delighted when I opened the wrappings around the albums. Thank you.   S  – 11-29-11
---
Below is a wedding album that we embroidered to match the Mehndi design of the wedding invitations. The inside color was fuschia to match the names on the front of the cover.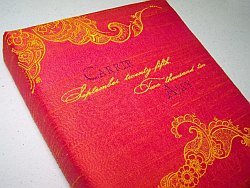 Dear Cindy,
I just realized that in the madness before the wedding I never thanked you for the album.  IT WAS AMAZING!!!!  The colors and design came out just gorgeous, and my guests had so much fun answering the questions at the rehearsal dinner that it became quite the center of attention.  We have it on permanent display in our living room because it's just so pretty and is now filled with wonderful, thoughtful, funny comments from our guests.  I can't thank you enough for pulling this off with all the logistical challenges (last-minute order, complex design, and the fun with the silk changing colors!)- it's really one of the best things we have from the wedding.    C.M. – 11-30-10
---
The album just came and I LOVE it!  It is even better looking than I had hoped and I can't wait to give it to my friend.  Thank you sooooooo much! M.D.   3-23-11
---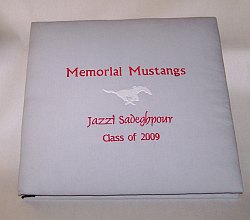 I love the scrapbook album you did for Jazzi.  It arrived safe and sound and it will be wonderful.  Sorry it took me so long to reply, it's been hectic  here.  We did receive the end of last week. ~ A.S.  5-4-2009
---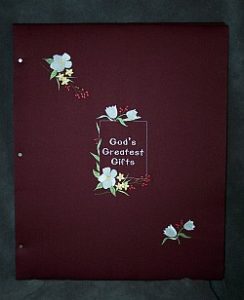 I should have written sooner to let you know the album arrived and I am very pleased with it. The color of the fabric is just what I wanted and I like the sheen it has.   – 7-20-08
---
Hi Cindy, I received the scrapbooks last week!!!  THANK YOU SO MUCH!!!   THEY ARE PERFECT! I Really appreciate the customer service I received from you!!!   YOU ROCK!!!!!!!!! Thanks again!!   Have a great day    ~  T.L.  7-2-08
---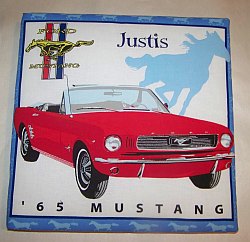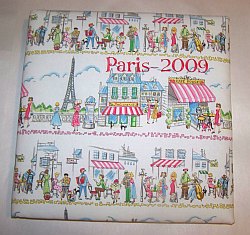 I have shown the Paris one to my girlfriend and she loves it!!  We have not started the process yet of filling it because I have been travelling for the last few weeks.  The Justis/Mustang book has not been seen by him yet.  It is a project that I will work and surprise him with one of these days.  I love them both and certainly will keep future the idea of your services in mind because it is such a special way to organize and remember joyous events!     P.K. – 3-24-10
---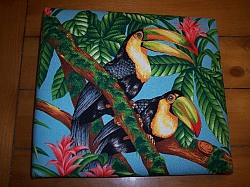 Hi Cindy –   I just received the photo album and it is GORGEOUS!!? I absolutely love it – thank you for doing such a beautiful job.  We usually go on one big trip a year, so it may be a while until I place another order – but you'll definitely be hearing from me again!    Thank you again, I.A. – 5-29-09
---
Hi Cindy, Thank you so much for the update. Your customer service is above and beyond what I expected, you gave me several updates to make sure that I knew exactly what was going on and took the time to find the most cost effective shipping method for my order and issued me a refund on the savings. I am very happy with the entire transaction and will definitely check back next week regarding the page protectors as well as recommend your site to my friends and family. T.V.  2-17-09
---
I received the book today and it is really something!  So beautifully crafted and well designed.  I love it, and am very impressed.  If I ever need another scrap book, I will be contacting you.  I am sure that my entire family will love it, and my mom will cherish it.     6-17-08
---
Cindy: The Album just arrived. It's WONDERFUL. It's looks fantastic. Thanks so much. I appreciate all your efforts.
K.R.   (7-3-06)    Wyoming State Treasurer's Office
---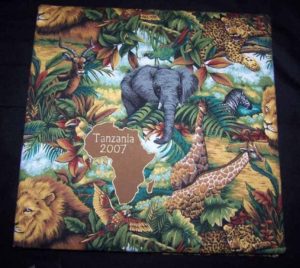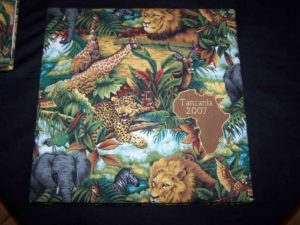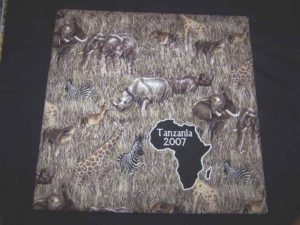 Hi Cindy, I got home last Friday evening, there was a box on my front porch. And I can't tell you how thrilled I am with the product that you've provided. They are spectacular. I love them, and my kids are going to be so thrilled and surprised when they see that whole thing put together. But, the Scrapbooks are just beautiful. The one with the rhino on it, that just turned out fantastic. The maps of Africa, down to the point where you even have the little island of Zanzibar off of Africa. It's just the the detail the quality… I'm thrilled with them and I can't thank you enough for the job you did on that. I'm sorry I'm leaving this on a voicemail, but I'm just really happy with how they turned out. Appreciate your diligence and patience with me working through  the issues. Thanks, P.K.  (transcribed from telephone message)
---
I don't remember if I told you or not…. my parents absolutely LOVED the album!! Thanks again for your professionalism, hard work and creativity!!! L.W. – 7-4-06
---
Cream colored silk embroidered with pale gold thread, an elegant combination!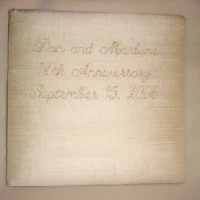 Just wanted to let you know that I received the album yesterday.  It's perfect!!!  I know that my parents will love it, and it will be the highlight of the event. Thanks again for the quick turn around – this will give me an extra week to compile all the photos and mementos. S.F. 8-2-06
---
Even our HUGE Scrapbooks (20″x25″) can be customized.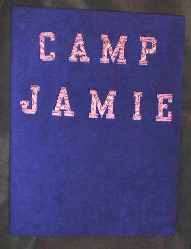 Hi Cindy, I just wanted to let you know that our jumbo scrapbook was such a hit at my daughter's bat-mitzvah. it looked amazing and exactly how i pictured it to look. thank you for all of your help and making it look so beautiful!  I will keep you in mind for all of my future album purchases. thanks again!   w.a.  (4-28-05)
---
Cindy,
I just wanted to let you know that I received the album last Monday (August 16th) and I absolutely LOVE  it!  My girlfriend loved it too!  SO thank you so much in getting it to me as soon as you could!  I will definitely be ordering more of your products!  Thanks again!   S. F.  (8-24-04)
---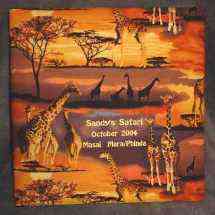 Cindy, I DON'T KNOW HOW TO DESCRIBE THE BINDING.  yOU WILL JUST HAVE TO LOOK AT IT.  i WILL SEND IT TO YOU with all the pages in it so you can cover it completely.  I don't know what fabric.   I'd love to see some of your new selections.  By the way the Giraffe one you did for Christmas was spectacular!  Let me see some fabric samples
Regards   B.H.  (1-17-05)
---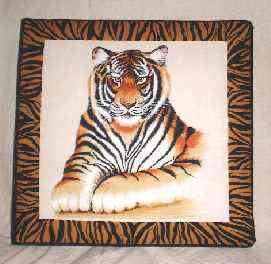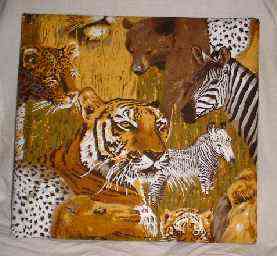 THEY ARE BEAUTIFUL…THANK YOU SO MUCH…..IM HAVING A PARTY NEXT WEEK AND I WILL PUT THE PICTURES IN TODAY SO I CAN LAY THE ALBUMS OUT ON MY COFFEE TABLE..     E.J.  (9-10-05)
---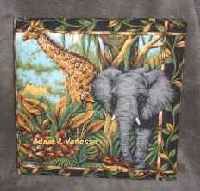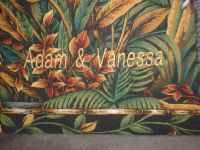 I GOT MY ALBUM AND I ABSOLUTELY LOVE IT. THANKS A LOT    V.P.
---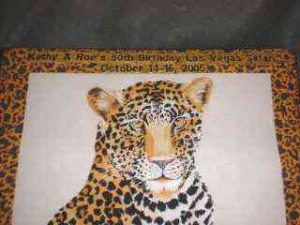 I just got the album. It looks awesome! I just love the front cover and I showed the girls here in the office. So, I'm going to be giving it to my girlfriend for a Christmas present with some photos of Las Vegas. I'm sure she'll love it. And thank you so much for all your hard work, it's well worth it. It's beautiful, take care… R.G. N.Y. Dec. 17, 2005  (Phone message)
---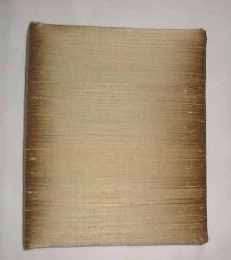 Hi Cindy, I came home last night from Fla. and the 50th anniversary celebration for my brother and sister-in-law. Your album was the talk of the day. I gave anyone who asked, your site and email address. I hope they will use your service. I have to agree with you that the album looked very elegant just as it was. I can't say thank you enough. You made a lot of people so happy. That included their 10 children,19 grandchildren and 2 great grandchildren. Also 5 of his 6 brothers and sisters, also my sister-in-law's 2 remaining sisters. Bless you,  T.  (8-30-05)
---
I wanted to let you know that I went to the Post Office yesterday and picked up the album.  It looks great!! I am so happy with the way it came out.  Thank you so much for all the time and effort you, Susan and whoever else was involved with the production of my album put in from my initial inquiry to the finished product.  I will definitely be recommending your company to my family and friends and I will be ordering more albums in the future.  I have so many ideas already.  I will be presenting the album to my friend tomorrow, so I will let you know how she liked it.  Once again thank you so much and I'll be in touch. Michael, 12-20-05
---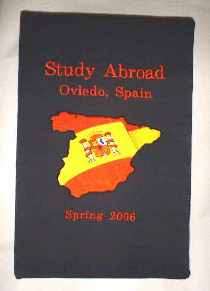 Things have been hectic with the holidays, so I apologize for not getting back to you sooner. As I write I am on vacation with my family in Aruba!! I presented the album to my friend before I left and she absolutely loved it!  She can't wait to get to Spain and take a bunch of pictures, so she can start filling up the album. Once again thank you for creating the perfect gift for someone very special in my life. I have no problem with you placing my album and letter on your website, it would be an honor.  I hope you had a Merry Christmas with your family and I wish you a very happy and healthy New Year.  When I get back to school in the middle of January I'll email you with some other album ideas I have. Talk to you then. M.S.  12-26-05
---

(silver dupioni with wire hearts entwined on cover.)
HI Its arrived – and its lovely.  We are both really pleased with the outcome.  Didn't need a press, had travelled really well.   Thanks once again – it will bring us many happy moments I am sure   Best wishes – and Good Luck for the future.  (4-26-2000 )  L.C.,    Great Britain
---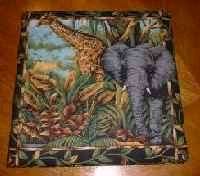 PHONE MESSAGE: Just wanted to let you know I just got my album, and it is gorgeous! I mean, it exceeded my expectations, which almost never happens. So, I just wanted to tell you how thrilled I am. I'll see if I need to order more refills, but thank you so much.
---
It's HERE!!! And very beautiful indeed. It's tactile and looks rich .. The tabs are great too. Thanks so much. I wonder if I have enough pages but we will leave that till I get back and see if you have some more in stock. Only sorry that I don't have a digital camera to take a pic for you Too old fashioned !! Be in touch when I return. A.S.    2-10-04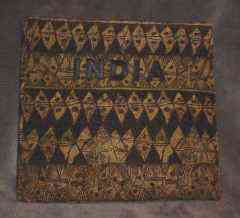 For your testimonials page: I highly recommend working with Cindy on the perfect album. I started by ordering one album for a special friend taking a special trip to India. Cindy helped me get just the right fabric and look. This album was such a hit, I decided to have one different but similar made for me. Now I am twice as happy. Annabel
---
The album is beautiful. It arrived on Thursday. Perfect timing! I gave it to him on Friday and he loved it. His pictures from Africa will be great in the album. ……I am certainly spreading the word around about your web-site. I am so impressed with the attention you gave me knowing the urgency of me giving this gift. Again, he loved it and I am sure his brother that also accompanied him on the trip will also want one when he sees it. Thanks again… G. J….. 5-24-04
---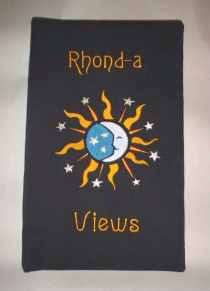 it got here on time and rhonda loved it…….good luck to you and thank you so much for a wonderful gift…….maybe if she decides to marry me ill invite you……cross your fingers for me….peace   J.H.   12-30-05
---
Hi Cindy: As usual my timing was such that the day I inquired about the delivery, the photo albums actually arrived. John, my husband, unwrapped them and thought they looked great and that's all that matters. Thank you for everything – you've been great through all of this. By the way, do you have any albums specifically for birthdays. I threw a big party for my husband on his birthday prior to the Alaska trip. I have in the order of 4 roles of film. I've looked at so many albums and none of them quite fit the occasion of a big '70 birthday party. They are all so boring and so much the same! Please let me know what you have available. Again, thanks for everything Cindy. It has been a pleasure doing business with you. G.K. 7-25-03
---
Hi Cindy,
Yes, they have arrived!  She had an opportunity to open just one on her lunch hour and it happened to be mine!!!  She said it was beautiful.  I will email you as to what she thought about the one for herself tomorrow.
---
Hi Cindy, My daughter LOVED her album too!  My daughter is going to work on putting them both together this weekend.  I cannot wait to share with friends and family. Many thanks!
---
Dear Cindy, The navy blue album has arrived and it is just perfect.  Thank you so much for helping me get this.  The one I broke belonged to my son who kept pictures of his little girl in it.  She lives in another town so it means so much  to him to have this be right.  You have made my on-line buying experience such a success! Sincerely, M.G.   10-19-04  (pioneer album replacement)
---
Dear Cindy, I have been out of town since 9/12 and am still not at home! My husband did receive it and LOVES it! I, however, have not seen it, yet! I will finally get home on Saturday the 25th and am looking forward to seeing it for myself! Don says the patch is "outstanding" and loves the fabric, as well. He said the album is wonderful! I'm sure it is, too! I'll write you next week after I see it. Thanks for your hard work.  Blessings,  Susan   9-23-04
---
Cindy, I received the large photo album.  I am very happy with the product.   Have a great day. S. R.   Huge Scrapbook ….12-18-03
---
My goodness. Our friends came last night at 6 o'clock, the album arrived at 5:10 just in the nick of time!!. The album is really super and my friend Jane  loved it. However!!!!  unbenonced  to me she has been  toying with the idea of making all her photos 5 x 7 -instead of 4 x 6!! What might we be able to do if that were the case? What pages do you have that would work for that? Best, A. S.    12-16-03
---
Dear Cindy, I could not be happier with my album. It is exactly what I was looking for. It's everything my fiancee and I wanted in an album. Simple, cute and silver. I thank you so much I will forever treasure it. It was a nice surprise coming home last night after a long day of shopping and finding the box sitting there in my kitchen table. Both my fiancee and I opened it and were pleased with what we saw. You made us smile. Once again you made one more item for us a lot easier and it was an enjoyable experience doing business with you. I thank you so much. It was nice to have met such a nice person  like you. Thanks a million!! -L. I.  9-25-03
---
Hi Cindy, I received the album. It looks great.  I like this color of orange much better, too.  Thank you so much!! G.  K.  9-24-03
---
Hi Cindy, I received the package today and the substitution you did is just fine.  The scrapbooks look great.  Thanks so much, and I'm sure I'll order from you again sometime. Thanks,  K. V.G.   8-22-03
---
Cindy, I got the 2nd album.  Just as the 1st,  it is beautiful!  My parents are going to love them.  Thank you so much for both of them.  I was talking to my beautician about them and about your web site, she said that her parents had a 50th earlier this year, and had the same idea as I had with the albums, but didn't know where to look at the time to get one.  I gave her your website for her future use.  Thanks again! L. A. M.   7-11-03
---
This order was our first Recipe Album.  We took the design that our customer wanted on the cover and made up recipe cards to match as a wedding shower gift.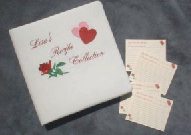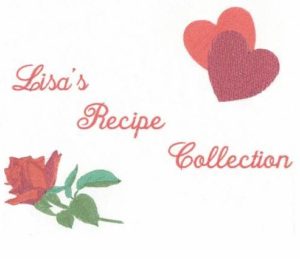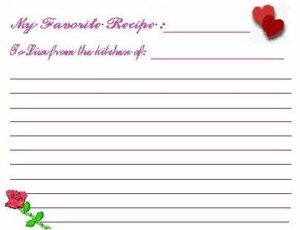 Hi Cindy, I just wanted to let you know that I got the album in the mail on Friday and it looks great.  I've already put some of the recipe cards in and they look very nice together.  Thanks so much for all your hard work. A. K.    (recipe album and cards)  5-19-03
---
Cindy, I just want to say Thanks for all your help.  I received the pages on Friday 4/11 they looked great and fit right in our books.  It will not take us long to use the pages' that i ordered.  So i know that we will be placing another order with you soon.  🙂     L. R. 4-7-03
---
Hello Cindy, how are you doing? well I've recieved the album last saturday and was very satisfy with my purchase. It's a beautiful album.   Thanks very much.  Greetings Natalie  4-14-03
---
Dear Cindy: The 50th Anniv. album is beautiful.  I would like to order one more just like it.  My Mom has decided that she wants an album the same as the first to be used for her grandchildren's pictures.  The only thing that I'm wondering about is if I can get more of the photo pages that hold 8×10 pictures. I would need about 15 refill pages of them.  Do you sell these separately since the album doesn't come with that many? Do you sell these 8×10 refill pages by the sets?  So, I would want another Large Anniversary Album in Gold Lame'  (without photo pocket) using the #3 photo album as a base album. Let me know about getting the additional 8×10 pages and we can go from there. Thank you so much for the beautiful album! Sincerely, Cindy M    6-23-03
---
Hi Cindy i got the albums today. they look fabulous. I am very happy with them.  thank you so much C. M.    : )   3-17-03 (set of New Zealand travel albums)
---
Hi Cindy – received the album yesterday afternoon – IT IS BEAUTIFUL – the gals in the office love it too! So exciting!!! Thank you – thank you! Is there a special spray I can lightly mist the cover with so oil from hands don't stain the silk?  This is so beautiful. Can't wait to have time to think of another something you can do for my daughter!  Blessings,  L.L.  10-31-02   (ribbon embroidery album)    –  My reply to her question about a protective spray was that it is fine to use ScotchGuard fabric protection spray, spray several very light coats and allow to dry completely in between.
---
My goodness. Our friends came last night at 6 o'clock, the album arrived at 5:10 just in the nick of time!!. The album is really super and my friend Jane  loved it. However!!!!  unbenonced  to me she has been  toying with the idea of making all her photos 5 x 7 -instead of 4 x 6!! What might we be able to do if that were the case? What pages do you have that would work for that? Best, Annabel Slaighter    12-16-03 Save
Save
Save
Save
Save
Save
Save
Save
Save
Save
Save
Save
Save
Save
Save
Save
Save
Save
Save
Save
Save
Save
Save
Save
Save
Save
Save
Save
Save
Save
Save
Save
Save
Save