Product Description
Memory Books for your photos are wonderful, and scrapbooks can be inventive and fun.  But, if you want to give a forever loved gift to a loved one, order your own Photo Memory Quilt!
Photo Transfer Memory Quilts
After discussing the project, just send us your high quality photo images, give us the color palette you prefer for your fabrics (or supply your own) and we will put together the most amazing quilt you could imagine!   We offer 2 different sizes: Wall hanging size (25″x30″ OR 20″ by 35″ landscape-let us know if you prefer vertical or horizontal) which comes with a hanging sleeve on the back for your convenience of placing it on the wall.  This size usually would hold up to 4 photos of various sizes.  Lap quilt size ( 45″x45″)  Hanging sleeve can be added at no extra fee.  This quilt can hold up to 7 various sizes of photos.  Intricate quilt patterns such as in our sample could cost more, please email before ordering.
How we make your quilt
First we arrange all your fabrics and choose the best colors to "frame" each photo. After printing the various photos on fabric and treating them to be washable, we assemble the framed prints.  Then we mount them in your choice of background fabric (or to make it "scrappy" we can use 2 or 3 fabrics as in our example below).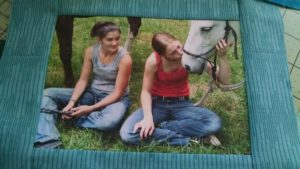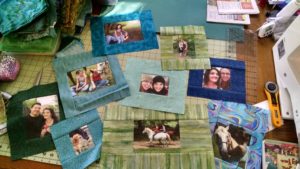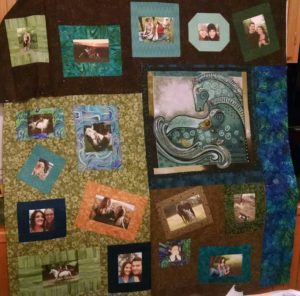 ---
In the photos above you can see our process to choose fabrics and frame the photos. The last photo is of the design wall where we check for overall balance in colors and shapes.  Below is the final product.
---
We can also do a more complicated "quilt" pattern such as this 50th Anniversary gift quilt.  The photos in this quilt show both as children, then in their wedding photo, then current photo of them together.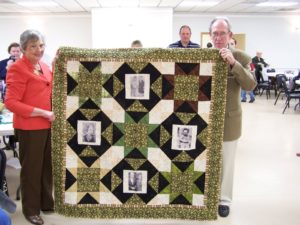 ---
Since quilts are SO personal, please feel free to email us to discuss patterns, photos and prices.  We consider our quilts the same as our albums…completely made to order.
Save