ANOTHER Scrapbooking tutorial ! How is this one different?!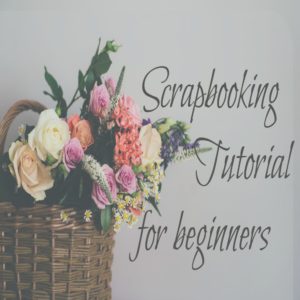 I'm not even a scrapbook person, I just want to be.  I have tried in the past to make adorable pages for my scrapbooks, but just ended up pasting photos into the blank 12 x 12 pages.  Sometimes I would print out lines of text to put under my photos.  Shame on me!  I sell lots of scrapbooks and accessories, so I decided to make myself get busy and learn to do it properly.  I also want to make sure that my papers won't fade.  I've had that happen in the past when I made posters with plain old construction paper.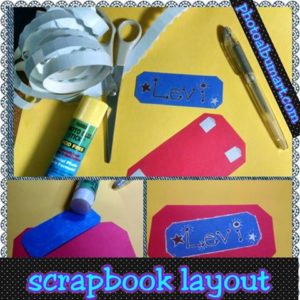 BUT, how can you scrapbook on a budget?  Scrapbooks can be expensive, and refill pages add up, so who has tons of money to buy die-cutting  machines that cut out cute designs that you might use only once or twice…or the dies that the machines use… or stickers and frames and all the cutesy papers.  You might use one or two stickers out of a set or two or three pages out of a huge book of papers.  It's a bit of a shame to end up with leftovers stacked higher than the scrapbook itself.
My Goal
So, here is my goal.  I'm going to try (as a beginner myself) to make relatively cute pages with only the materials I have on hand.  If I buy something else, it will be something that I know I will use often. All of the products I use are in my
scrapbook accessories
section in case you haven't got them on hand yet.  Our prices are competitive with the hobby stores too.   My main adhesives are things I use all the time anyway.  We sell these on our website and I probably use more myself than I even sell.  The
mounting tabs
are amazing, they hold photos or newspaper clipping really well.  They also stick to themselves, so a word of warning…don't let the three year old take them out of the box and then rip the box up… the photo tells it all.
My Tools
For smaller items I love the
acid free glue sticks.
  I've used these for holding pieces of fabric in place temporarily when I am piecing quilts.  They are perfect for little kids to help stick things down…they can get all gooey and sticky, but come clean under water.  Hint: Keep a damp wash cloth on the table as you are gluing things down to wipe sticky fingers…especially the three year old's!  Otherwise glue will transfer to everything else as well. So those items I already had plenty of to begin my project.  I also have so many pairs of sharp scissors it's not even funny.  Right now I'm looking at 3 on my desk in the pen and pencil cups, and I have 2 on the table with my scrapbook layout.  But, they must be sharp. I also have some fancy scrapbook scissors, and I might use them on the next page, but I know for sure I'll use my straight cutting ones.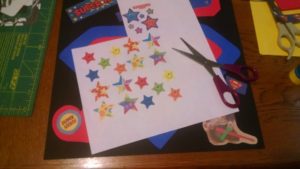 I have always loved cutting out things, so I didn't think I would mind printing out cute things from clip art and gluing them on my pages… not too bad.  But after cutting out 5 or 6 little stars to decorate I'm beginning to think that a trip down the stationary isle for star stickers might not be too bad an expense, for the moment I'll keep to my plan to print, clip, and stick. And some of the clip art I found fit my page perfectly, so I don't mind snipping and pasting them for decorations.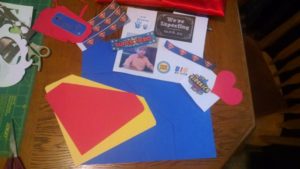 I also carry in my store
gel pens
for writing in scrapbooks, so I'm using those liberally as well.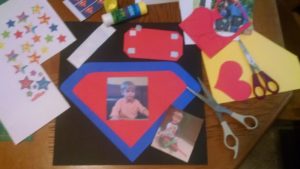 From Here on >>>
As you follow my journey (and I really hope you will) Please send in your ideas, tips, and advice.  I'm eager to learn more myself as I go and I'll post your tips as I can. If you want to keep following the story, please come back soon.  Let us know what you think and thanks for reading today. Here is my first full scrapbook page – the "punchline" will be my NEXT page >>>  come back and see… All comments and suggestions welcome.

Save
Save
Save
Save
Save
Save
Save
Save
Save
Save
Save
Save
Save
Save